I'm pleased to share with you that Houzz, the home design, remodeling and decorating web site, recently awarded The Denver Shade Company a "Best of Houzz." For the second year in a row, Houzz community members have rated us at the highest level.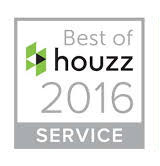 In regular terms, that means that we get good reviews. Why should you care about that? Because when it comes to selecting a service company, you look for the ones you know you can rely on to provide the best products and services. Our last review said we were one of the best contractors they'd ever worked with.
Now, everyone likes to be noticed for good things they've done. But for us, it's more about making sure our clients are completely satisfied with the system and design they've chosen. For us, it's more about being the best service company than being recognized for it. Of course, we always appreciate when someone takes the time to write a review. It's just one more reassurance that The Denver Shade Company is providing beauty and functionality through education and teamwork.
If you're curious about what The Denver Shade Company can do for you, call 303-517-1994 to make an appointment to see our beautiful new showroom. There's almost nothing we love more than talking about motorized shading systems. And there is no better place to experience what we do than in our showroom.