Karen Hutchinson started working in furniture stores when she was young. Her initial interest in design quickly became a passion she pursued through formal study. She worked for production builders and then custom builders of large homes on the west coast. In 2005 she started her own design business, working with custom homebuilders. She recently moved to Denver after 14 years in California.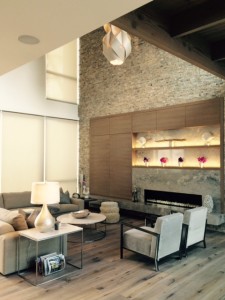 What brought you to Colorado?
My family was looking for a change of pace. We wanted to live in a thriving metro area as opposed to the small beach towns of California. While I still do some work for my clients in California, I am transitioning my focus to Colorado.
When clients are looking for a designer, why should they choose you?
I have been part of the design industry for over 17 years. When it comes to the sometimes-unpredictable nature of building, I know what needs to be accomplished in what time frame for the contractor. I help clients set realistic budgets and stay on schedule so things run as smoothly as possible. Building a new home carries enough stress; I try to relieve as much of that as possible. I also do remodel work and furniture placement along with any finishing touches. Perhaps the fact that many clients have actually become dear friends speaks volumes to my personality and work ethic.
Do you have a specific area of expertise?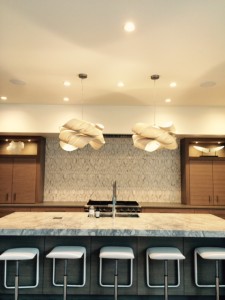 I really enjoy the blank canvas of new construction. Working with custom homebuilders and homeowners from the birth of a project all the way through to completion is very rewarding. I'm invested in the project beginning to end and we're all working together to produce the best product. To see the homeowner excited over the work we've accomplished is very rewarding.
Tell me about the challenge you faced that led you to bring in Jared and The Denver Shade Company.
Well, we had many challenges. The home had many floor-to-ceiling windows in various sizes, and we needed different shading solutions. For some, we wanted privacy; for others, we just need sun-blocking; then we also needed blackout and different access options. We also needed help figuring out how the shades in the guest suite could offer both privacy as well as viewing. Jared and The Denver Shade Company came in with brilliant shading solutions, fixing any and all issues we seemed to encounter.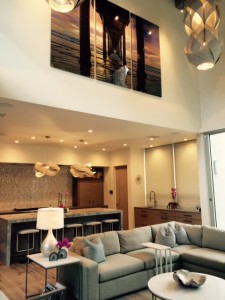 Why would you choose to collaborate with Jared in the future?
I really liked Jared's personality and expertise from the outset. He knows all of the ins and outs of the shade business. He is also knowledgeable technically about shading solutions, including the Lutron system, which we have in our own home. He is very patient and professional at all times.
At The Denver Shade Company, we're obsessed with motorized window coverings. What are your obsessions, both professionally and personally speaking?
I am passionate about my work and making my clients happy. Personally, I love my family and animals. Those are the things I get up for in the morning and that keep me going during the day.
To speak with Karen Hutchinson and learn more about how she can help you, visit www.hutchinsoninteriors.com or call 805-441-9191.