Until now my focus has been on interior shading options. It's what I live and breathe. It's what I dream about. It's what my wife had to finally ban from dinner conversation so I would listen to my kids' stories. For The Denver Shade Company, it's always been about interior shading, to control light and maximize energy efficiency. But over the past few years, I've been studying net zero home design. I've begun to really consider how to maximize that efficiency and how exterior shading was just as important, if not more so, as interior.
Here in Colorado, we pride ourselves on our outdoor living. It's a huge reason why my family and I moved here from Boston a couple years ago (and this past winter made us all the more grateful we did!). In Colorado we have so many sunny days and we love that, but as these spring days begin to warm into summer, our houses will start to feel the effects.
The fact is, once the sunlight has penetrated the windows and the siding, the heat is in our homes. While it may be trapped behind shades, it is still heating our homes.
The key to maximum energy efficiency is to stop that light from even hitting the home, and that's where exterior shading comes in. Now, we've all seen the retractable awnings and sail shades available at your local hardware stores. They are often unattractive and break down under the intense sun, not to mention that their options are pretty limited. I knew there had to be better options out there.
I started researching and discovered a world of exquisite exterior shading solutions designed half a world away in Europe.  I was so excited by these products that I traveled to Germany and Belgium to learn from the foremost innovators in outdoor motorized shading. I saw products that were not only functional, but also beautiful. I'm excited to partner with two industry-leading manufacturers: Markilux and Renson.
Germany-based Markilux is on the cutting edge of style and design when it comes to outdoor living spaces. Besides elegant pergolas and terrace coverings, they offer an array of motorized awnings unlike anything you've seen. They incorporate recessed styling and LED lighting. As the exclusive Markilux dealer in Colorado, we are confident you won't find a better awning anywhere.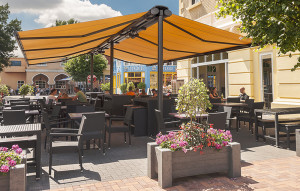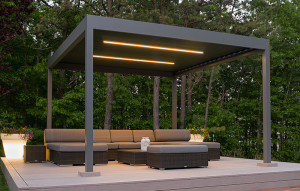 Renson, established in Belgium, is a trendsetter when it comes to improving living spaces while cutting energy costs. They've created exquisite terrace coverings with overhead louver systems you can't even imagine until you see them. They offer windproof, waterproof systems so you can enjoy the outdoors in the sun, rain, wind, cold, or anything else a Colorado afternoon can dish out.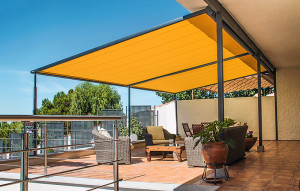 These superior motorized shading solutions actually enhance the exterior design of your home — they integrate into the existing structure. With one of these new shading options, you may easily find your family comfortably hosting an afternoon barbeque on your patio, an elegant dinner with friends, or even just a quiet moment of fresh summer air.
To learn more about exterior shading, please visit denvershadecompany.com or contact me. I'm always excited to talk about shading solutions. Except at dinnertime.