When Sheri Stouffer took a couple interior design classes at Auburn University in pursuit of a degree in marketing, she had no idea that years later she would rely on those classes as she switched career paths. After years in the high-paced competitive world of sales, Sheri needed a lifestyle change and began taking a window treatment sewing class at the local technical school in Tampa, Florida. She began to find solace and inspiration in her work and not long after that, as she tells it, was the birth of her son and business. A few years ago, her family moved to Colorado and Sheri has reestablished her full service window treatment boutique in Denver.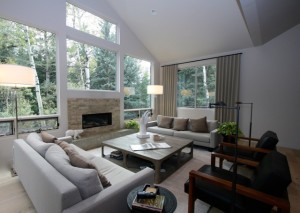 What is your area of expertise?
Window treatment design is my forte and I have a passion for learning about the latest trends and products. I handle the design, fabric selection and fabrication on all projects. While I have an installer assist me now, I used to do all the installation myself. That experience taught me about all the details that need to be considered. Now, as the project is being installed, I can focus on the finishing details.
When clients or interior designers are considering window treatments, why should they choose you?
I know enough about window treatments that I am very precise with my measurements and consider all the details. Making a mistake there could be very costly, so it is well worth having a professional assist in the room. I love working with clients, getting to know them and listening to their vision. Then as we go through the steps of fabric selection and sewing, I let their voices in my head guide me as I'm working with different fabrics with different qualities. When it all comes together and the client sees their dream become a reality, it really is spectacular. My goal is to always exceed expectations.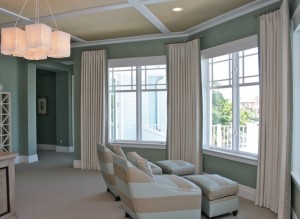 So why would you partner with The Denver Shade Company?
Years ago, in Florida, I was installing window treatments and the client wanted whole home automation. While I can do basic motorization, syncing automation throughout an entire home is much more complex. I learned the value of partnering with a professional. Jared, with his expertise, is almost more like an engineer. I knew I wanted to partner with him the moment I met him.
Why Jared?
When it comes to motorization, there are different suppliers and they all have different products with their own pros and cons. Jared brings a passionate, unbiased knowledge of the industry and can help clients choose what works best for them. I can let Jared handle the inner workings of the whole home automation while I create texture and ambiance through fabrics, trim and artistic touches.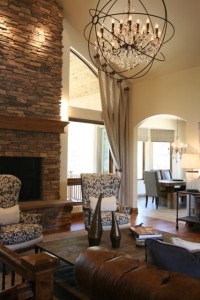 Tell me about a specific project you worked on together.
I was creating window treatments for a client who had some basic existing motorization. As we worked together on their vision, they were really looking for that whole home automation The Denver Shade Company specializes in. Knowing I could turn that over to Jared gave me peace of mind. He brought in his expertise and installed products to best complement the drapery I had created.
At The Denver Shade Company, we're obsessed with motorized window coverings. What are your obsessions, both professionally and personally speaking?
Truly my passion is fabrics, texture and design. Each project is a chance for new creativity. Outside of that, my passion is spending time with my family outside, either mountain biking or skiing.
To speak with Sheri Stouffer about window treatments, visit finishingtouchesinc.com or call 720-328-8672.