Sometimes homeowners contact us directly, and sometimes we're brought in on a project through a partner. A recent project is a prime example of the latter. The Miles family had asked Sheri Stouffer of Finishing Touches to create stunning window treatments to integrate with their existing home automation system. Although Sheri had some experience with basic motorization, she also knew that this level of motorization automation was best left to the experts, and she called in The Denver Shade Company.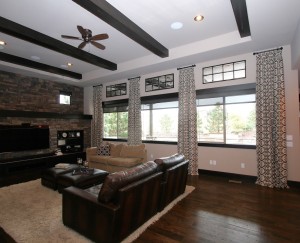 TDSC worked with Sheri on selecting the right shades and fabrics so that together they provided seamless design while independently they offered function as well as aesthetic. Since we wanted the shades to virtually disappear while not in use, and did not have existing wiring, the client chose the Lutron Triathlon roller, one of the best wirefree systems available.
The Miles family already had automated lighting by Insteon, audio and thermostat systems by Control 4, and wanted to incorporate their motorized shades as well. This is where the expertise of TDSC really comes into play – we have the experience and skill to provide a shading automation that works within the framework of an existing system. The truth is that you could install any system and, through some careful integration (meaning programming, testing and tweaking), make them all work eventually. But of course all of that testing and tweaking comes at a higher cost. It makes so much more sense to use systems that "play nice" together.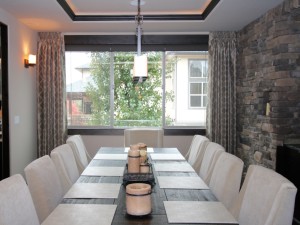 Our goal is take care of all of the technical aspects of automated window shading and let our creative partners and craftspeople do what they do best: create functional and beautiful rooms for our clients. Home automation systems should make your life easier and more comfortable. Give us a call or stop by our showroom today to see our shiny new Tech Wall and find out what solutions might work best with your existing smart home products.