After weeks of rain, we're finally beginning to see the sun again. I don't know that my skin knows what to do with these UV rays! As we begin to spend more time outside, I wanted to tell you about some of our favorite exterior shading products.
The Renson Camargue pictured above, takes the word "pergola" to a whole new level, transforming your terrace into an exquisite outdoor space. The roof is a series of vents that open and close to regulate light and air. When you hear thunder, imagine being able to close your pergola's roof and side panels and actually enjoy a sudden, typical Colorado downpour.
The sides of the Camargue can be customized with moveable windtight screens, glass sliding panels, or translucent blades. This incredibly wet spring will lead to a summer with more bugs than usual, but with a screened in outdoor space, you won't be bothered by pests.
There are seemingly endless customization options for the fabrics and frames, and these materials are weather-resistant, strong and maintenance-friendly. And Renson offers integrated lighting, heating, audio and weather sensor options to make the Camargue an additional living space the entire family can enjoy.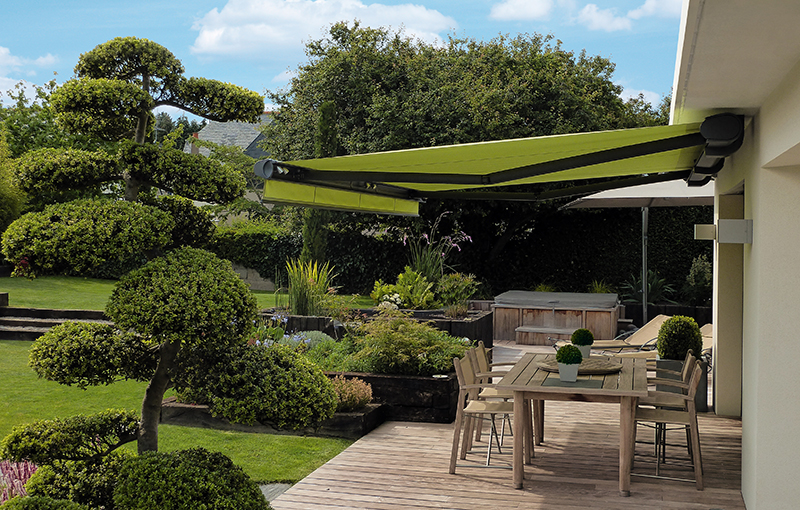 If your outdoor space could benefit from a retractable awning, consider the Markilux 6000. With its friction-free bionic elbow joints, the folding arms are virtually noiseless. On top of that, the absence of friction makes this finely crafted product more durable and robust. Markilux also offers a host of customization options, from the frame and fabrics, to heaters, lighting, and "Shadeplus" – an additional motorized vertical shade to help with low laying western sun. They also offer an intelligent weather control system complete with sun and wind sensors to detect atmospheric change so the Markilux 6000 can adjust and protect itself. You've got to see this!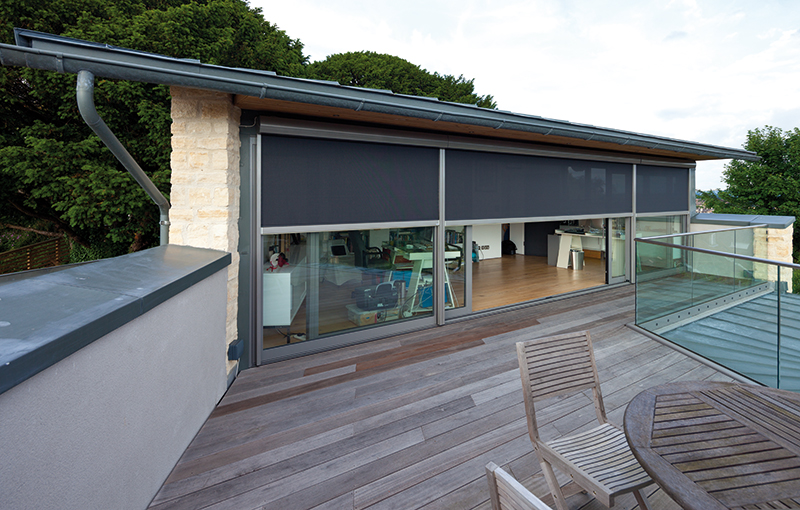 And finally, the Renson EVO Fixscreens are a great way to shield your windows from the harsh effects of the sun, pesky insects and those sudden intense windstorms that seem to crop up in the late spring and early summer. These motorized screens with side "zip" channels are installed on the exterior of your windows and can be raised and lowered, allowing in more or less filtered light. With a wind rating of 50mph, the highest in the industry, Renson's exterior shades are European engineered and built to last. The system is about 25% more energy than efficient than interior screen shades, so you'll keep your utilities down, protect your furniture, floors, and artwork and still be able to see the beautiful view outside.
We can't tell you how excited we are about these exterior shading products. Actually, yes we can – stop by our space at StudioComo or give us a call. Motorized shading is our passion. Let us share it with you.