I'll be the first to say I'm a proud tech nerd. I spend my fair share of time reading Wired, Gizmodo and TechCrunch's blogs, all the while drooling over the latest and greatest in technology. And when any bit of tech is remotely connected to motorized shading and lighting solutions, I'm on it, ready to geek-out as any true technology lover will.
Last year when Tim Cook announced the Apple Watch to the world, while we were all dazzled by the design, we also wondered, "what will we do with an Apple Watch?" I started scouring social media to see which of my favorite home automation manufacturers would be the first to release an app for this new ground-breaking product.
It didn't take long and wasn't a big surprise to see that Lutron, one of our favorite partners, was first out the gate with an Apple Watch app. We're proud to partner with a company on the frontline of innovation, and Lutron continues to set the standard in home technology companies.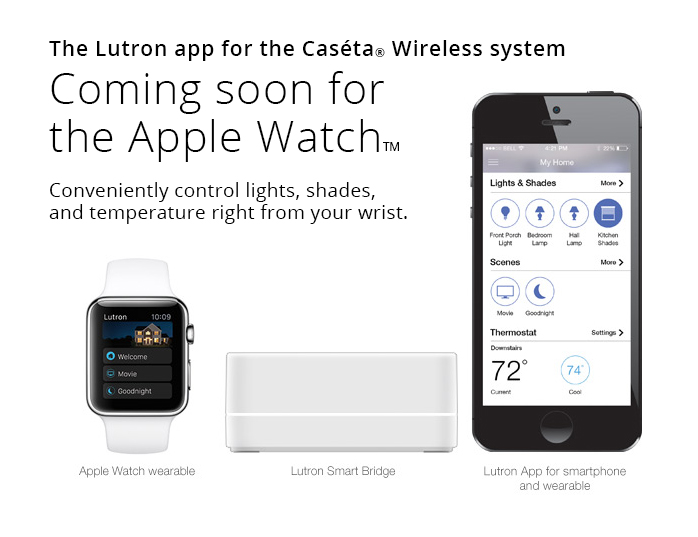 With a glance, Lutron's Caséta Wireless System owners can check in on their home to see if lights were left on or what the thermostat is reading. They can change home and away scenes, raise and lower shades, control lights to turn on when they arrive home, or dim lights for the optimal movie-viewing experience. All of this is controlled by a few finger strokes on your shiny, new Apple Watch. And that's just a preview of what the app will do.
I'd love to tell you more about how Lutron's technology can integrate into your home and life. Just ask me about the Caséta Wireless System. This product might just be the perfect excuse to not only jump on the new technology train, but have an legitimate reason to be an early adopter.
Call, text or email. We're always excited to talk about the latest and greatest in shading and home automation.